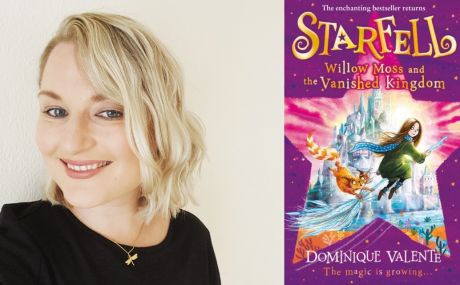 Dominique Valente - Starfell
Join Dominique Valente, author of the Starfell series, as she steps into the magical world of Starfell. Join misfit witch Willow Moss and her eccentric group of friends on lots of magical adventures. Get an exclusive insight into this amazing world, meet the characters and revel in the magic.
This virtual event is suitable for Children 8-12 years and teachers/parents. There will be the opportunity to ask questions either before or during the event.
The third book in the magical Starfell series, starring misfit witch Willow Moss. Perfect for readers of 8+ and beautifully illustrated throughout by Sarah Warburton. Willow Moss and the Lost Day was selected as Waterstones Book of the Month.
For the very first time, magical children like Willow are allowed to go to school alongside their non-magical neighbours. But Willow is suspicious. She knows the Brothers of Wol are up to no good, so why are they changing the rules all of a sudden? On her first day, Willow meets an elf girl named Twist, and soon they are embarking on Willow's most urgent mission yet: to protect the children of Starfell, uncover the mystery of a long-lost kingdom - and prevent the very source of magic from getting into the wrong hands.
This event is available to Schools - we are keeping in touch with everyone on our Schools mailing list.
If you represent a school or class and want to join in please click here and get in contact