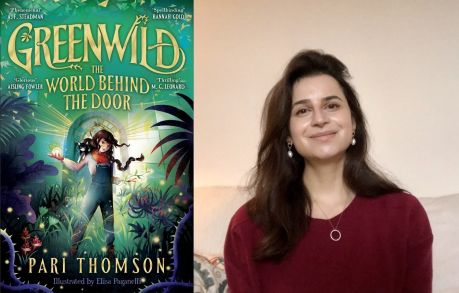 Pari Thomson - Greenwild (KS2 School Events)
Welcome author Pari Thomson to your school with her children's book 'Greenwild'.
This is the first in an extraordinary series for middle-grade readers aged 8-12.

Date - Friday 19th January
Available time from... 9am, 11am & 2pm (times approximate)
KS2 Children - School years Year 4, 5 & 6
Please Click Here to enquire about PARI THOMSON coming to your school.
Greenwild follows the adventures of Daisy, who finds a door in Kew Gardens that leads her to a botanical garden where nature is alive with magic - think chocolate trees, wish-granting seeds and giant lily-pad boats. There, Daisy encounters green magic, botanists, and a dangerous presence that threatens nature itself. The story is inspired by botanical gardens around the world - and the various natural settings that Pari lived in and experienced growing up, such as New Delhi. On launch, Greenwild received rave reviews right across the nationals: The Times, for which it was Children's Book of the Week, said: "'The scene-setting is exquisite and the writing a delight."; The Telegraph, which gave it a 5* review, said: " Thomson is a razor-quick writer, who always keeps the reader tottering near a cliff" and The Observer called it a "richly imagined adventure".

Pari's school events are brilliantly interactive - she introduces the magical world of Greenwild to students and how it is accessed via a door in kew Gardens, and then gets students to come up with their own portals to other worlds and then share the ideas altogether. Elsewhere, she does a reading, talks about the book's inspirations, and details her writing life. There is also a Q&A. Students will come away feeling inspired to both pen their own magical worlds and look for the magic in the natural world around them.