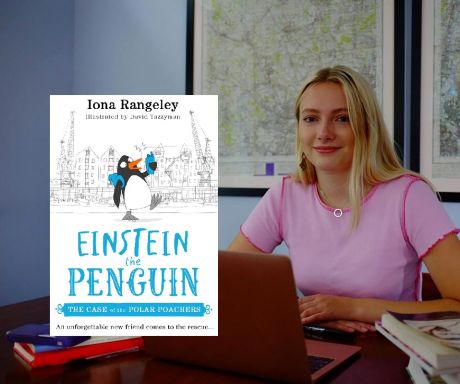 Iona Rangeley - Einstein the Penguin (KS2 School Events)
Welcome author Iona Rangeley to your school with her children's book 'Einstein the Penguin'.
Best suited for ages 7-11.
Date - Tuesday 28th November
Available time from... 9am, 11am & 2pm (times approximate)
KS2 Children - School years Year 3, 4, 5 & 6
Please Click Here to enquire about IONA RANGELEY coming to your school.
Einstein the Penguin is back in THE CASE OF THE POLAR POACHERS, a future-classic and fantastically funny story for all the family from Spark Book Award winning author, Iona Rangeley!
Inspire budding writers with Iona's journey from wanting to be a writer as a child to becoming a published author at age 23. Iona will read extracts from books she wrote as a 5-year-old, as well as exclusive readings from her debut series, followed by a fun penguin quiz!
Perfect for fans of Paddington, EINSTEIN THE PENGUIN is a must-have series for 7+ readers, described as 'outstanding' by the Times and 'delightful' by the Bookseller.
Discover the world's most extraordinary penguin today!
ABOUT THE AUTHOR:
Iona Rangeley has recently finished studying English at Oxford. She has wanted to be a writer since her debut novel Sam and the Pig, which she wrote when she was five. Iona starting writing Einstein the Penguin when her final exams came along, because it was more fun.