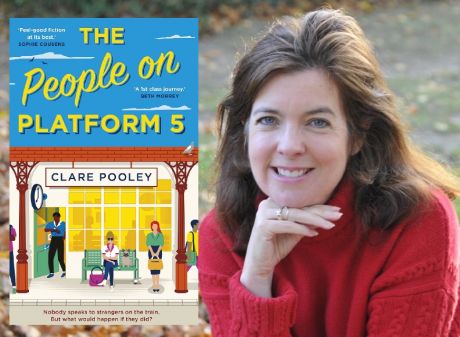 Clare Pooley - The People On Platform 5
We are so excited to be joined by Clare Pooley for the launch of her wonderful new book The People On Platform 5 (Also our June Book of the Month).
Tring loved The Authenticity Project - And her new book is every bit as good (maybe even better!!).
Clare will be in conversation with Beth Morrey.
Your ticket includes a free drink as you arrive.
Date
Thursday 26th May 2022
Time
7:30 PM
Doors Open
7:00 PM
Venue
Our Bookshop
The People On Platform 5 by Clare Pooley
From the bestselling author of The Authenticity Project comes a brand-new uplifting and feel-good novel that readers are falling in love with... 'Heart-warming and funny, I am completely charmed by the author' 'Another not to be missed read by Clare Pooley''Brilliant contemporary story, full of food for thought. Clare Pooley is amazing' 'I absolutely loved the eclectic mix of commuters who travelled from Platform 5'
Nobody speaks to strangers on the train. But what would happen if they did? Every day at 8:05, Iona Iverson boards the train to go to work. Every day, she sees the same people and makes assumptions about them, even giving them nicknames. But they never speak. Obviously. Then, one morning, Smart-but-Sexist-Surbiton chokes on a grape right in front of Iona. Suspiciously-Nice-New Malden steps up to help and saves his life, and this one event sparks a chain reaction.
With nothing in common but their commute, an eclectic group of people learn that their assumptions about each other don't match reality. But when Iona's life begins to fall apart, will her new friends be there when she needs them most?
Everyone is talking about The People on Platform 5: 'A glorious triumph of a novel; warm, funny and moving, with an unforgettable cast of characters' ROSIE WALSH
'This book tackles so many interesting themes, all with Clare's trademark humour ... Feel-good fiction at its best' SOPHIE COUSENS, author of This Time Next Year
'Sunny, funny and full of heart' NITA PROSE, author of The Maid
'A 1st class journey' BETH MORREY, bestselling author of Saving Missy